What is a pre-accelerator program?
A pre-accelerator program helps individuals/small teams who have a startup idea to test and validate their idea for a high-growth tech startup.
You come to us with a problem you are passionate about and truly want to solve. We help you understand your problem space and your customers deeply, understand the existing market, players and work-arounds, develop and rigorously test your hypothesis (yes, this is like a science-class but more fun!), and finally help build a minimum viable product (MVP) for your business.
Who are we after?
We are looking for the A-team of exceptional Migrapreneurs who want to join us in creating Australia 2.0! Hear from our Migrapreneurs from the 2018 program on why they joined Catalysr in the video below.
Are you a hacker, engineer, hustler, scientist, thinker, marketer, business mogul or do'er?

Do you deeply care about solving hard-problems?

Have you had a problem or business opportunity in mind, but no way to make it real?

Are you interested in validating your problem, market, prototype, Proof-of-concept?
Even if some of these points speak to you, apply to join our next program in 2020.
Or if this sounds like someone you know, share it with them below!
Program Overview
Our 6-month pre-accelerator program is run in 2 stages, starting with Ideate and then Accelerate.
Ideate
---
Ideate program will run from 15th February - 2nd May 2020, and will be offered to the top 100 Migrapreneur applicants.
Weekly Master-classes: 12 x weekly masterclasses on startup essentials from our expert mentors, startup ecosystem and industry partners. Our curriculum is based on Design Thinking, Lean Startup Methodology and MIT's Disciplined Entrepreneurship (DE) framework.

Experiential Learning with your Migrapreneur Community and Mentors: Collaborative work with other migrapreneurs every Saturday (for 12 weeks) in the presence of mentors to apply learnings from master-classes, build accountability, and make progress on your startup.

Community Events: Monthly community events such as hiking, dinners etc. with your cohort, Catalysr alumni, mentors and supporters.
Accelerate
---
Accelerate program will be offered to upto 20 start-ups from the Ideate program, and will run from 9th May - 1st August 2020. We require every Migrapreneur/Team to participate in the Ideate program before joining the Accelerate program, regardless of what stage their startup is at.
Off-site Startup Bootcamp: This is a day-long event out of the city that will be spent discussing your goals with the rest of the cohort, our Entrepreneurs in Residence and the Catalysr team.

1-on-1 Mentoring with our world-class entrepreneurs-in-residence.

Introductions to investors, potential customers and follow-on accelerator programs.

Fireside chats, Ask Me Anything & Office Hours with global founders, Catalysr Alumni, industry experts and mentors.

Accelerator Roadshow: meet potential funders, VCs and follow-on accelerators.

Support Services: Accounting, Legal, Marketing, etc. support when you need it.

Demo Day: Top startups pitch to our partners, supporters and investors for funding and other ongoing support.

Pre-seed Funding: We will invest $10,000 AUD each, in the top 2 performing startups at the end of Accelerate program.

Alumni Community: Startups are really hard. So we want to invite you to join our community of over 100 alumni after the program, that is growing every-day, to stay connected, access learn and support and share your journey with other migrapreneurs
There will also be additional support from our major partners CGU Insurance & Vasudhara Foundation who have committed to supporting the next generation of Migrapreneurs!
2020 Key Dates +

Application Deadline: 20th January 2020
Phone Interviews for short-listed candidates: From date of application - 1st February 2020
Decision Notification: 1st February 2020
Program dates: 15th February - 1st August 2020
---
Eligibility criteria +

Migrapreneur Led: There must be at least one first-generation migrant or refugee co-founder in your team, who will participate in the pre-accelerator program. We also take international students/temporary work visas, but you have to ensure that you meet your visa requirements on working hours etc. In short, Permanent Residence OR Australian Citizenship is not a requirement, but you should be allowed to legally work in Australia.

Idea/Early Stage: You have an idea to start a start-up in Australia, OR are already running one and are currently at an early stage (less than 2 years old OR Pre-SEED).

Sydney-based: As our program is run face to face in Sydney, you can be from anywhere in Australia OR the world, but need to be based in Sydney for the duration of this program (6 months).
---
Cost of Attendance +

The IDEATE program is completely FREE to attend, thanks to the generous support of our partners & mentors.

In the ACCELERATE program, we take 3% equity (shares) in exchange for services for the 20 top startups that get selected for this stage. We will also take an additional 2% equity for the top 2 startups who we provide $10k of pre-seed investment at the end of the program. We don't take a board seat on any of the startups we support.

The reason we take this equity is twofold. Firstly, so that we have a skin-in-the-game and an incentive to keep supporting your startup beyond the program. Secondly, with a pay-it-forward business model, we want Catalysr to be financially sustainable and not reliant on grants and sponsorships in the long-term.
Meet Pascal from Jobspottr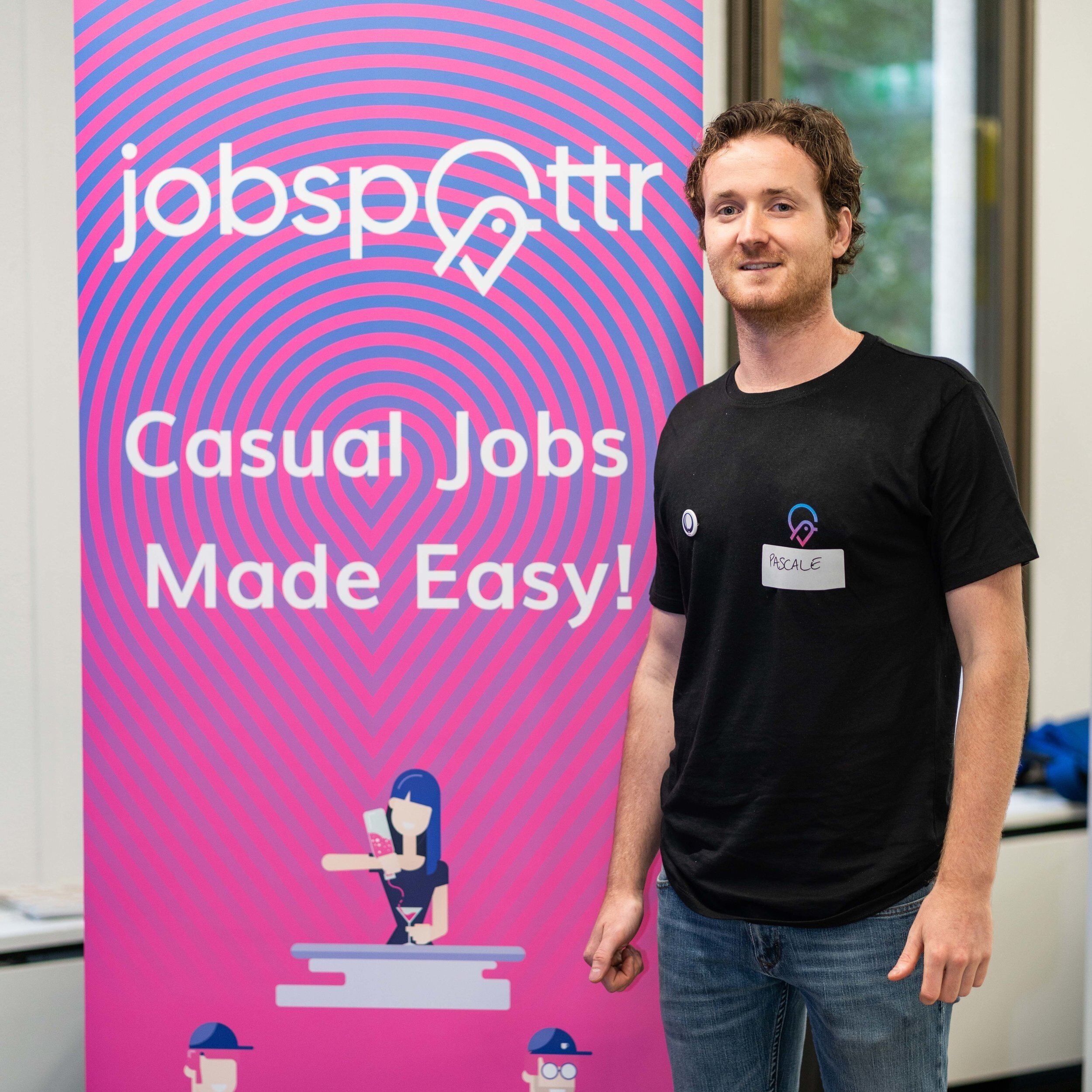 "Finishing the program, I can say it would have been impossible to achieve what we did in such a short period without the support and network of Catalysr. One of the most valuable things for me personally was probably the incredible network of professionals and high calibre mentors I was fortune enough to work with. Founding a company is hard – coming from the other side of the world and not knowing anyone in the startup scene or where to start in another country can be a headf*ck. Catalysr gave me the backup I needed to be able to focus on our project and I didn't have to worry about anything else as there always was support and someone who could help."